forest childcare
At Dee's Childcare we provide enhanced opportunities for children to explore features of the natural world and express themselves creatively in everyday play, through the provision of a range of natural materials including those with interesting textures. It is also about giving small children the opportunity to spend time in the great outdoors on a regular basis. It is about having a passion to deliver an outstanding outdoor experience to the children we look after.
Forest Childcare can help to:
• Teach children to appreciate trees, fields, ponds and woods by spending time in the natural environment
• Improve emotional and physical wellbeing of children and the adults who look after them
• Improve children's concentration, perseverance, cooperation and motivation skills
• Help children to stay fit and counter obesity because children move around naturally outdoors while they play
• Let off steam
• Provide opportunities for developing harmonious relationships with others, through negotiation, taking turns and cooperation
• Improve physical skills gained from opportunities to run and balance
• Build knowledge and understanding of the world
• Provide rich opportunities for imagination, inventiveness and resourcefulness
© Copyright 2013 - Dee's Childcare - All Rights Reserved | Read our Privacy Policy here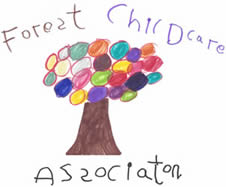 Outdoor learning means that we go outdoors on outings at least once a week, whatever the weather. Full details will be provided in the weekly plans via the babysdays system. So with this in mind, please can you provide us with the following items to keep here:
+ A minimum of one complete set of spare clothes
+ Wellington boots
+ Sun cream
+ Sun hat
When you drop your child off in the mornings, please be aware of the weather and always assume that we will be going outdoors that day. This means that if it's raining when you drop them off, please can you send a rain coat or splash suit. By the same token, in the winter please bring gloves, a hat and a warm coat. We will let you know if there are occasions where your child will need extra items (swimwear for example).
You will need to sign permission forms to say that you are happy for us to take your child on regular outings, and to take them out in the car. This permission slip excludes 'special outings'. Special outings have separate permission forms and these will be available to you via the Baby's Days system.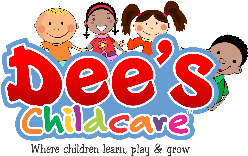 Dee's Childcare is an advocate for outdoor learning. We have a passion for delivering an outstanding outdoor experience, giving children the opportunity to engage in the great outdoors, whatever the weather.
Outdoor learning provides countless opportunities for children to develop problem-solving skills, self-exploration, decision-making skills, healthy living awareness, creativity, and imaginative thinking whilst learning to understand and love their natural environment.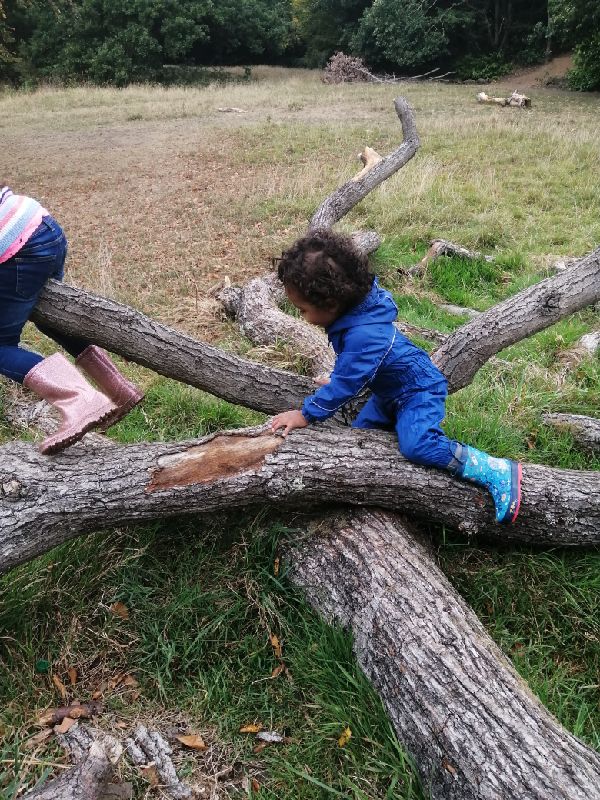 allotment
We are the proud owners of an allotment which has become an extension of our nursery. We visit the allotment weekly and it's a great opportunity for the children to get involved in growing our own vegetables, understanding where our food comes from and learn about, appreciate and care for the environment and the creatures that live in it.
Alongside growing our own vegetables, we have a pond with wildlife, a fairy garden around the pond, a sand pit, an obstacle course and together with the children we have built a minibeast hotel.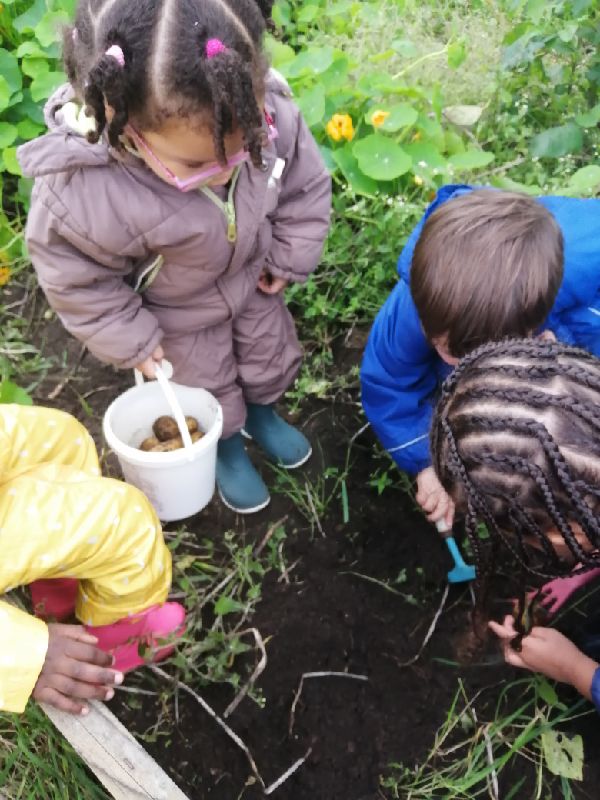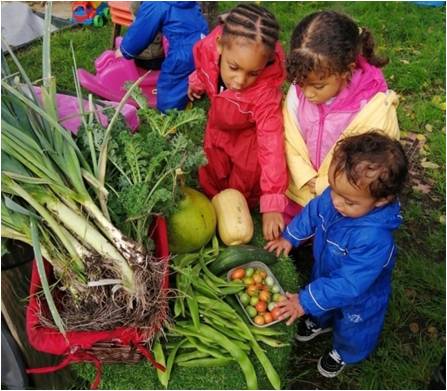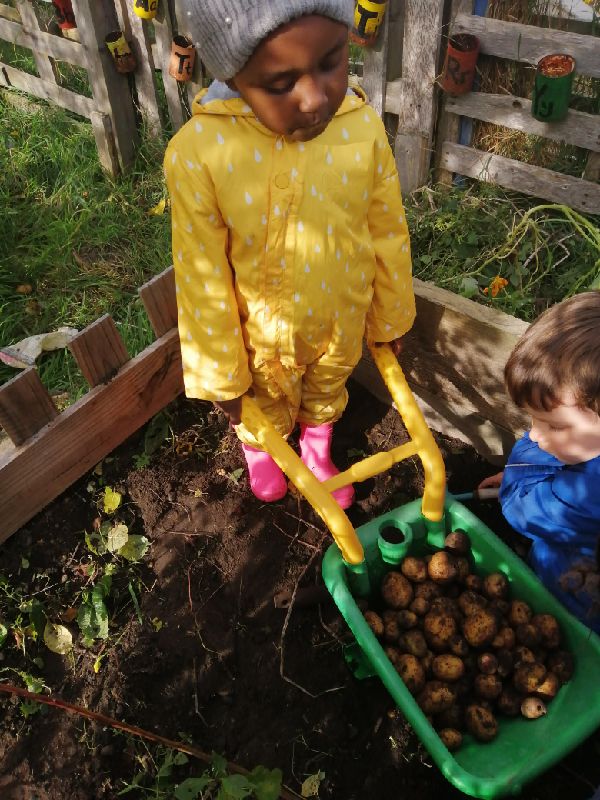 our enchanted garden
Our new nursery comes with a large enchanted garden full of trees, bushes, flowers and a big play space. The garden provides the children with a huge opportunity to explore, get muddy, go on adventures and flourish to their full potential.

The play area includes a large sand-pit with a big wooden ship in the middle, a mud kitchen, a swing and see-saw set, a wooden climbing frame, a quiet reading area and an imaginative corner made into a fairy garden.